Mechanical Die Springs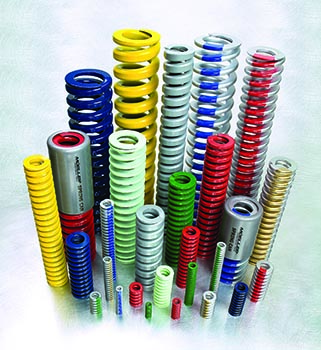 Nitrogen Die Springs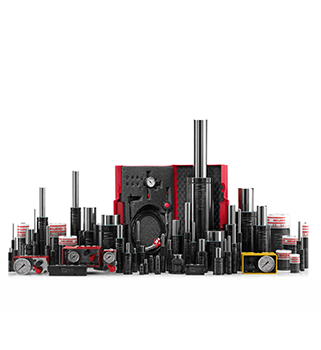 Our extensive inventory of mechanical die springs in various sizes and load levels allow Moeller to ship many products on the same day. All Mechanical Die Springs are interchangeable with competitive brands, and meet ISO, European, and Asian standards.
Our rectangle wire die springs are ISO 10243 compliant and stocked in inch and metric sizes. We also feature 3 additional loads not available from our competition. The "Super Light Load" is lighter pressure spring the standard "Light Load". The "Ultra Heavy Load" is heavier than "Extra Heavy Load" and offers pressures never before available in a Mechanical Spring. The "Hyper-Strong Load" white spring is our maximum force spring, ideal for applications involving extremely large loads with short working strokes in difficult environments. Additionally, we stock smaller size round wire springs for very light applications.
Our silver and colored stripe oval wire die springs are completely interchangeable with the Raymond Brand color code system and other competing brands. Featured are 4 loads: light, medium, heavy, and extra heavy.
For more information, continue to our product page or download our complete Mechanical Die Springs Catalog PDF.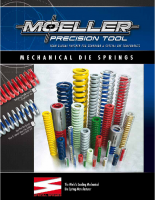 Special Springs Nitrogen Gas Springs offer unique safety features that make our springs among the safest in the world. Our gas springs are highly specified for use in metal stamping dies, injection molds, and custom machines.
With hundreds of models and sizes to choose from and of unlimited forces, stroke lengths and mounting options, designers can easily select a standard spring to meet their individual application requirements.
All Special Springs Nitrogen Springs are interchangeable with competitive brands, and our products meet ISO, European and Asian standards.
For more information on Nitrogen Gas Springs, continue to Special Springs North America's website.